About
Save the Box
The Save the Box campaign is an Australian initiative from the Australia New Zealand Gynaecological Oncology Group (ANZGOG) to raise much needed funds and awareness for research into gynaecological cancers.
Get Involved
About
Gynae Cancer
Gynaecological cancers are cancers of the female reproductive system. There are seven types- ovarian, uterine (often called endometrial), vulvar, vaginal, cervical and two rare pregnancy cancers. They are the third most commonly diagnosed cancers in women, with more than 18,469 women living with a gynaecological cancer and a further 6073 women expected to be diagnosed by the end of this year. These are the unacceptable facts about gynaecological cancer.
Uterine (endometrial) cancer is one of the five most commonly diagnosed cancers in women. Uterine cancer incidence has increased by 22% over the 26 years from 1982 to 2008, due mainly to the obesity epidemic.
Only four in 10 women diagnosed with ovarian cancer will survive five years after diagnosis. This compares to nine in 10 women surviving breast cancer in the same period.
While there is a routine screening test for cervical cancer, there are no routine screening tests for the other types of gynaecological cancers. This means they can go undetected until symptoms present.
It's time to take action, break the silence and raise funds for research to help our mothers, sisters, friends, daughters and granddaughters face better odds in their futures.
An Information Guide for Gynaecological Cancer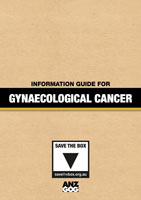 About
ANZGOG
The Australia New Zealand Gynaecological Oncology Group (ANZGOG) is the only national not-for-profit organisation dedicated to gynaecological cancer research.
Our purpose is to improve outcomes and quality of life for women with gynaecological cancer through conducting and promoting cooperative clinical trials and undertaking multidisciplinary research into the causes, prevention and treatments of gynaecological cancer.
Established more than 15 years ago, we have led more than 20 clinical trials with volunteer participation from more than 3,000 women. Our membership is made up of around 750 medical, nursing and health specialists working across 50 hospitals in Australia and New Zealand.
We directly fund research through two innovative programs:
Leading on a global scale with the OASIS initiative – matching new targeted therapies with molecularly defined subsets of ovarian cancer to identify new treatment opportunities. "OASIS is revolutionising the old 'One size fits all' approach. New knowledge means we can and must develop more personalised treatments for ovarian cancer'– A/Professor Alison Brand.
Stimulating and funding new research ideas– the Fund for New Research grant ensures new ideas have the seed funding needed to get off the ground.
Our research has changed gynaecological cancer treatments for the better, identified new ways to support women's quality of life while living with cancer, and improved gynaecological cancer survival.
Save The Box is fundraising for gynaecological cancer research conducted by Australia New Zealand Gynaecological Oncology Group